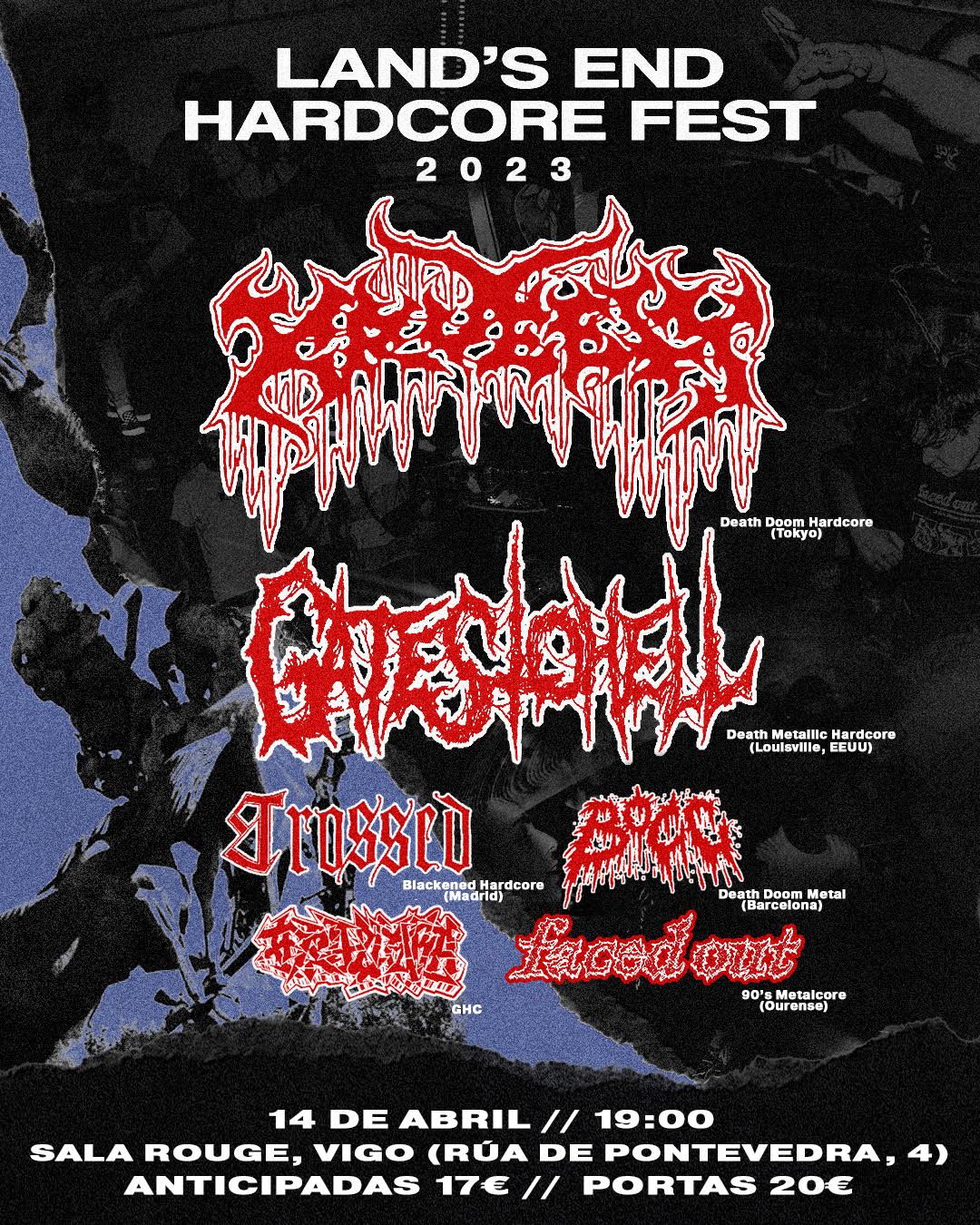 Land's End HARDCORE FEST | 14 abril 2023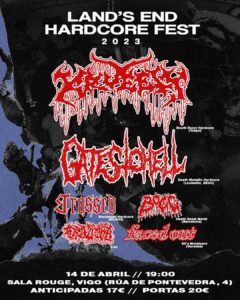 KRUELTY (Death Doom Hardcore | Tokyo, Japón) – La apisonadora "Doomcore" japonesa KRUELTY encabeza la cuarta edición del festival. La fecha es parte de su segunda gira europea, a la vez parte de su gira mundial de 2023. Presentarán su nuevo álbum "Untopia" que saldrá el próximo 17 de marzo de 2023.
GATES TO HELL (Hardcore/Death Metal | Louisville, EEUU) – La banda estadounidense híbrido entre Hardcore y Death Metal GATES TO HELL acompañarán a KRUELTY durante su gira, la cual será la que les lleva por primera vez fuera de su país. También presentan su primer ábum "Gates To Hell" que ya ha sido lanzado el pasado septiembre.
CROSSED (Blackened Hardcore | Madrid) – Banda de hardcore/metalcore caótico que visitará Vigo por tercera vez. El año pasado sacaron un LP "MORIR" y muy recientemente un split con la banda Viborv "PENA" por lo que los tendremos con un repertorio fresco.
BOCC (Death Doom/D-Beat | Barcelona) – Desde Barcelona nos visitan BOCC por primera vez con su híbrido Doom / D-Beat lento y pesado. Tocan por primera vez en Galicia y presentan su primer álbum "Dolça Mort en els Llims del Rec Comtal" en esta actuación.
FACED OUT (90's Metalcore | Ourense) – Los más que conocidos en la escena hardcore en Vigo FACED OUT también presentarán su primer álbum "In The Absence Of Solace" que se lanzará el próximo 27 de enero de 2023. Una potente dosis de edge metal noventero como nadie hace en toda la península.
FRACTURA (Hardcore | Galiza) – Banda (parcialmente) local que se encargará de abrir la velada. Hardcore punk metalizado con letras en galego para representar la escena local.